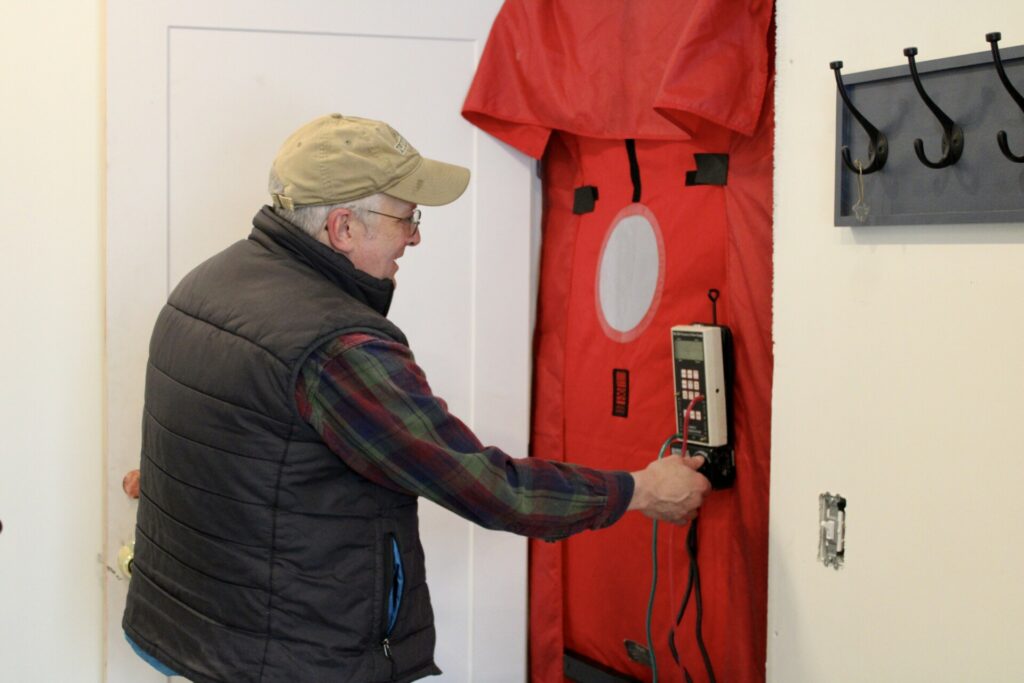 What Is an Energy Audit?
An energy audit is the crucial first step to assess where energy is consumed in your home or commercial building. With an energy audit, we can determine exactly which measures will make your structure more energy efficient and save you significant amounts of money over time. We also make it possible for you to receive Efficiency Vermont, Vermont Gas (VGS), and other applicable rebates and incentives for thermal improvements to your home.
The energy audit begins with a 2-4 hour building inspection. This includes a review of your insulation, heating and cooling systems, appliances, and "thermal envelope" (i.e., basements, attics, windows, doors, crawl spaces). We use specialized equipment such as infrared cameras and blower door test equipment. An infrared camera helps us detect heat loss, air infiltration, and moisture problems. A blower door depressurizes the house helping us locate and measure the volume of air leaks. We also do an inspection and test of the boiler/furnace and test the efficiency of the heat distribution systems in your home or commercial building.
Energy Audit Offerings
Home Energy Audits
Having performed energy audits on hundreds of homes throughout Vermont, our BPI Certified energy auditors have the knowledge and experience in determining how your home's energy efficiency can be improved. Our auditors will work to inspect every facet of your home's profile to look for areas where weatherization, insulation, and heating systems can be improved or upgraded. From air sealing and improved insulation to the installation of heat pumps or super-efficient windows, all improvements made will aim to save you money by cutting your home's heating and cooling costs.
Commercial Energy Audits
Along with energy audits to improve the energy efficiency of homes, energy audits for business and commercial buildings are also available. Our energy auditors have experience providing energy assessments on buildings for a wide variety of businesses and organizations such as office buildings, restaurants, retail stores, schools, and more. A commercial energy audit will aim to uncover areas within the structure of your building where energy efficiency can be improved to reduce future heating and cooling costs.
Energy Audit Reports
Energy audits can lead to short-term and long-term savings of up to 70%.
After our inspection and testing, we spend another 4-6 hours writing a complete report of our findings (most other auditors do not provide a detailed written report of the same caliber). Our reports include a detailed list of recommended work and estimated costs, with projected energy savings for each recommendation. The audit report ensures that any dollars you invest in improvements will be spent where they're needed most.
The audit is your first step to taking advantage of Efficiency Vermont incentives. We send an additional report to Efficiency Vermont that summarizes improvements that may qualify for rebates up to $3,000. Most of our clients qualify for rebates ranging from $400-$1,000. As part of the audit process, we collect all required information and submit the application for incentives from Efficiency Vermont. Any rebates will be mailed directly to you.
Why have Building Energy perform your energy audit?
We are certified by the Building Performance Institute (BPI)
We are a member of Efficiency Vermont's Efficiency Excellence Network. This means that our staff has undergone training, passed rigorous examinations, and work to maintain credentials.
We provide a detailed report and invoicing.
We use state-of-the-art tools and methods.
You can have confidence dealing with professionals who have been working for over 40 years in building and remodeling in the local community.
We provide an accurate costing for all aspects of energy conservation and renewable energy because we have been doing the work ourselves since 1981.
Most importantly, we are experienced in having audited, repaired, insulated, and improved hundreds of buildings over the past 40 years.
We have experience in both conservation and renewable energy products.
Our reports can include pricing for solar PV and cold climate heat pumps if requested.
Our reports are based on the varied and extensive experience of our building analyst professionals. We present the problems and offer solutions that other auditors miss because of their lack of construction background. We include comprehensive solutions including the cost-benefit analyses of going solar as a possibility in our analysis. Since we have remodeled hundreds of residential and commercial buildings, we know what is going on underneath building surfaces. We know how to interpret data from testing equipment that other auditors miss.
Fact Sheet
Download the following fact sheet about energy audits to view online, print, or share with friends and family:
Other Resources
Scott & Crew: George and I want to thank you for a terrific job on our house. Everyone who worked here treated us with great respect and professionalism. Our best to all!