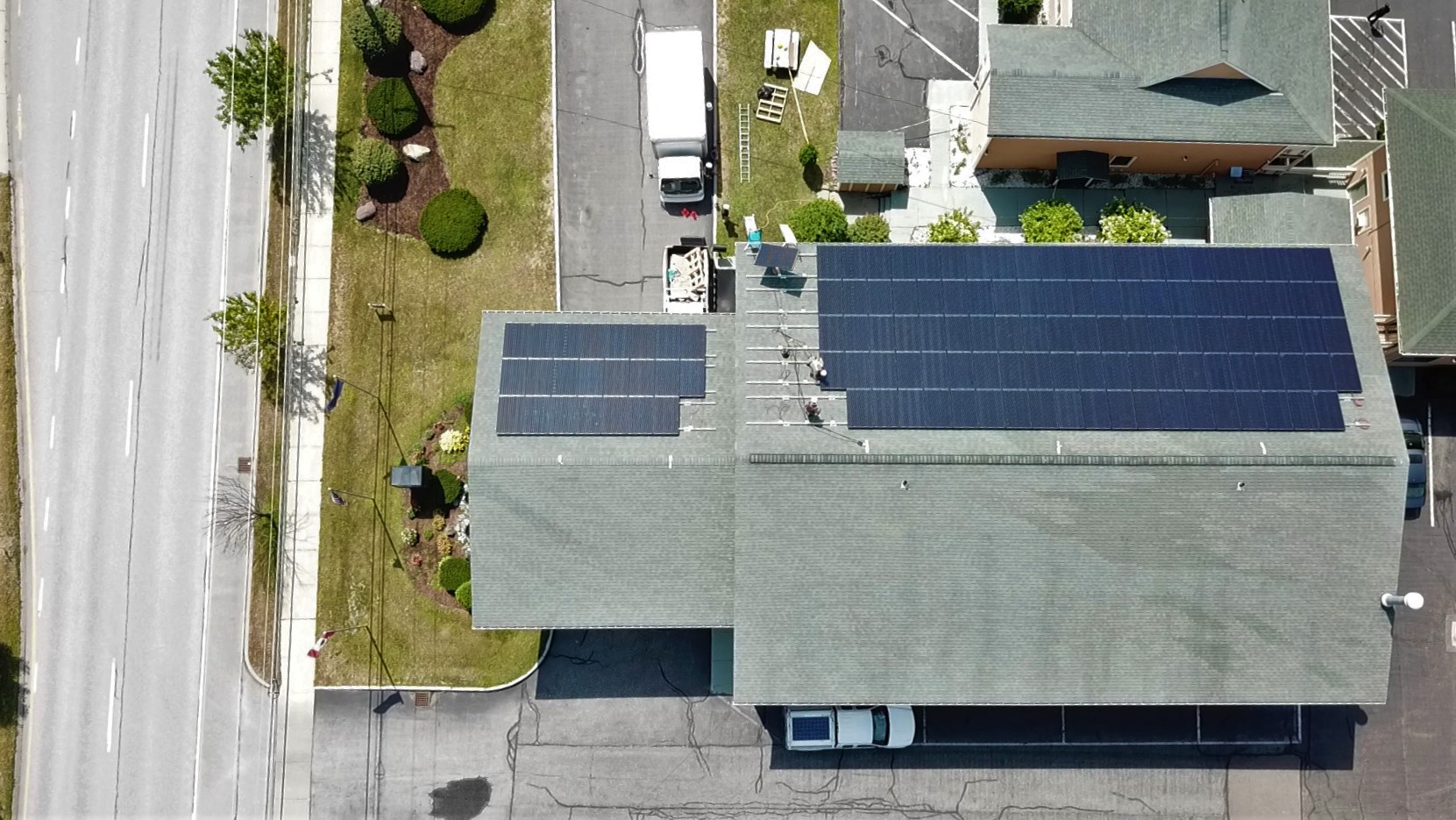 When David Silvestri opened his first electric bill, he was floored. The businessman has owned motels in the past and he never shied away from renovations and making improvements. But this time the utility bills for the Quality Inn on Shelburne Road, which he had recently purchased alarmed him. This led Silvestri to make some exciting changes that will drastically lower his bills and offer more comfort to guests all while lowering the carbon footprint of the complex.
As he tells it, "I was motivated to find energy efficiency for several reasons. One is the extraordinarily high cost of my utility bills. When I first purchased it in the winter months I knew I had to do something to reduce costs on an ongoing basis. Second, I wanted to know if being a green motel would attract energy-conscious customers. Continuing, I did not want to be subjected to increasing energy costs in the future at the whim of somebody else who was determining rates. Finally, I felt it would be a good long-term improvement and would also help the environment."
The Quality Inn was built in 1977 when energy costs were cheaper and before climate change was commonly accepted. Back in the 1970s thermal performance, how well a structure responds to changes in external temperature extremes, was not as critical to the building envelope in a 70-room motel like the Quality Inn.
In 2018 Silvestri was not an energy efficiency expert but fortunately, he became acquainted with Scott Gardner, founder of Building Energy, known for being a leader in energy efficiency. Gardner had been selected to perform renovations to the hotel lobby.
As Silvestri tells it, "I started randomly calling contractors to speak about my planned energy improvements and I believe Scott was the first one to respond to me. Building Energy had been recommended by Efficiency Vermont. I gained confidence in his abilities and he became the natural choice. I was very happy with his work. Scott and the folks at Building Energy were able to keep a very tight deadline and work around my customers without disruption."
Gardner founded Building Energy in 2007. At that time, it was the only comprehensive energy efficiency construction company in Vermont with a vision to take a whole-systems approach incorporating conservation, energy efficiency, and renewable energy. While Building Energy now competes with several Vermont companies offering solar and heat pumps, it remains the go-to company in Vermont for a whole-systems approach to energy efficiency. Building Energy, with offices in Williston and White River Junction, has a longtime relationship with Efficiency Vermont, the state energy utility, and continues to own the top share of the thermal performance market in Vermont.
Silvestri promptly hired Building Energy to complete an energy audit of the Quality Inn to see if they could discover improvement opportunities. The audit evaluation recommended reinsulating and air-sealing the attic spaces and reducing the electric heat load by replacing the outdated room heater/ air conditioning units with modern heat pumps. Furthermore, Building Energy suggested installing solar panels in order to offset some of the motel's electricity demand.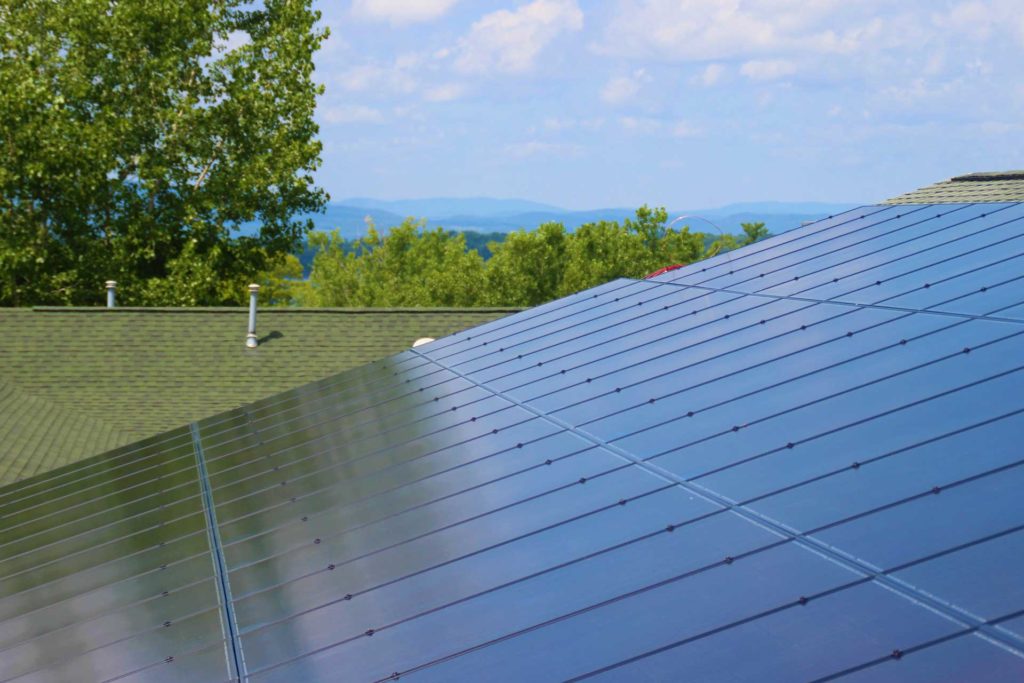 139 flush rooftop-mounted solar panels, installed by Building Energy, collect energy and convert it to thousands of dollars worth of electricity. The U.S.-made panels will produce over 40,000 kilowatt-hours per year, providing a roughly 5-8 year payback period. To put it in perspective, this amount of energy would power 4 average homes for a year. This project doesn't just make electrons and save money, it also puts a big dent in the Quality Inn's carbon footprint.
Further, the heat pumps, which use compressors similar to a refrigerator to efficiently cool and heat air, are estimated to keep nearly a quarter-million pounds of carbon emissions out of the air annually. Heating and cooling the rooms with heat pumps instead of the old heater/AC units will save $29,500 in electricity each year, resulting in a quick two-and-a-half-year payback on the initial cost. The heat pump project was completed with support from Efficiency Vermont, which offered a $10,000 incentive to help with installation costs.
Insulation upgrades and bathroom fan replacements are estimated to save 45,000 pounds of carbon emissions annually. Further, solar panels will keep another 50,000 pounds out of the atmosphere. This is the equivalent of taking roughly 10 cars off the road and the carbon saved would fill 11 tandem-size dump trucks filled to the brim worth every year!
While Building Energy's teams are at it, they will complete lobby renovations, install energy-efficient doors and windows, and replace the pool heater boiler with a modern energy-efficient unit that will reduce gas consumption by over 25%. When completed, the Quality Inn upgrades will give it a different ambiance from the rooms and office to the recreation facilities and grounds. It will be one of the most energy-efficient accommodations in Vermont.
What advice does David Silvestri have for others who would like to save money, improve health, and keep carbon out of the atmosphere? "My advice is, hire a qualified contractor that understands that change happens as a project moves along. And if you have the right contractor it pays to listen to him and heed his advice."
Silvestri's other piece of advice is, "If you are renovating old buildings then expect the unexpected. Opening up a wall is like opening up a can of worms. You never know what you're going to be dealing with until you get into the project so it's best to be prepared." Although he never found too many unexpected personal items behind walls he did note, "I have found what look like dungeons in some homes. And no, I never found a stack of money in a wall, even though I'd hoped I would."
Glenn Fay, Jr.
---