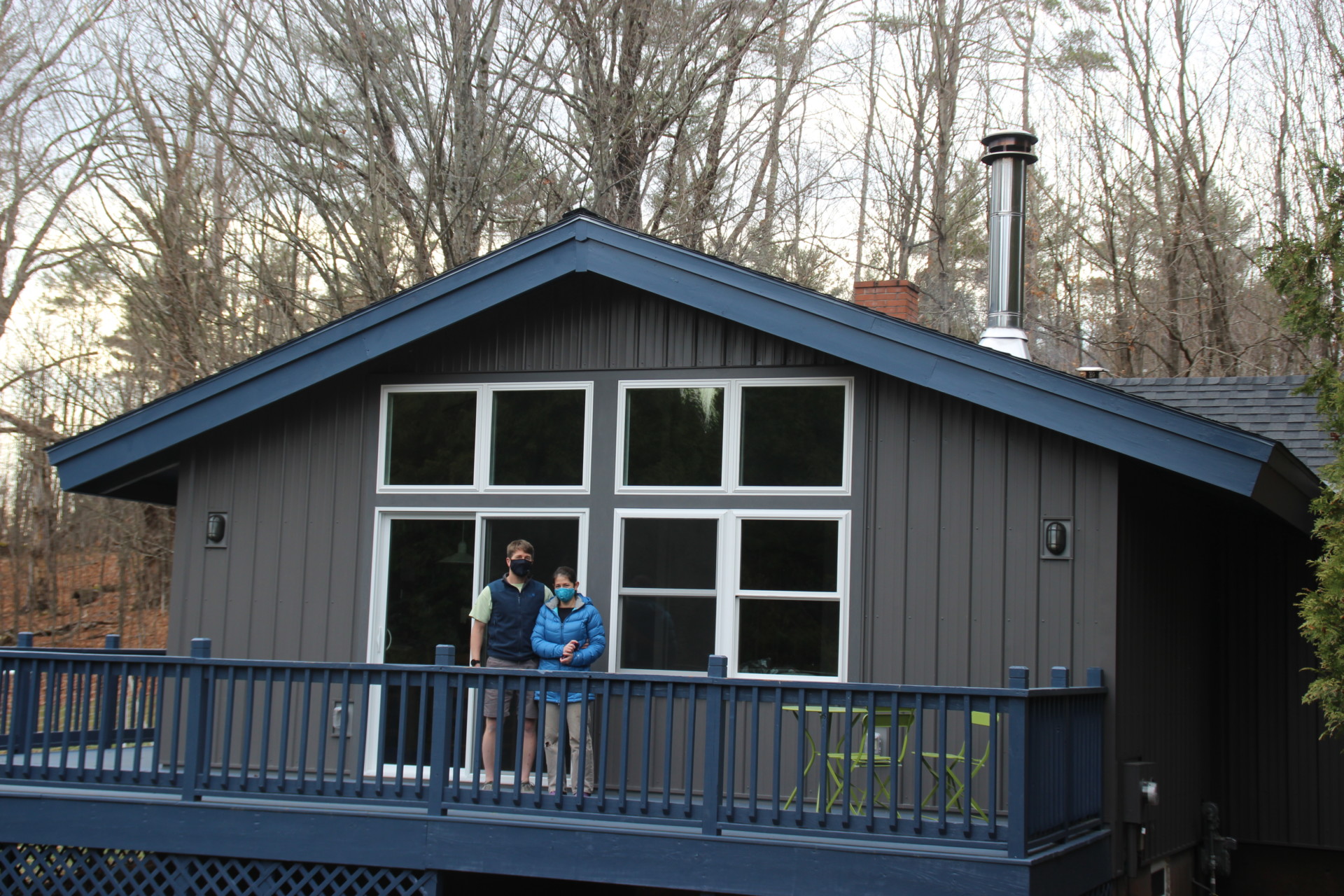 Mountain bike jumps, a soccer goal, and several woodpiles greet you as you walk up Jen and Tom's driveway in Jericho.
They reached out to Building Energy because they wanted new siding and windows. They might as well beef up the insulation in their exterior walls while that was being done, right?
Step One: Blower Door Test
The benefit here is that we get a baseline score and know how much the project has increased the efficiency of the house. Additionally, having a blower door test makes the homeowner eligible for rebates from Efficiency Vermont and potentially their utility provider.
The home scored 1,784 CFM with the Blower Door Test. For reference, a score above 1,300 CFM is considered moderately leaky.
Step 2: Windows
We replaced all of the windows on the street-facing side of the home, both improving the aesthetics and efficiency!
You should know, there are two factors that can make or break a window's efficiency. The first is the R-Value and efficiency of the window itself. The second factor is often glossed over but is just as important. It is imperative to insulate and air seal around the frame.
It is standard practice for us to do this on new window installs, but we also decided to look at the windows that were not being replaced. We found that the previous contractor had just stuffed some fiberglass between the window frame and the wall – Not the most efficient approach. We took this out and air-sealed all windows with spray foam to reduce the air infiltration.
Step 3: Insulation
The biggest improvement in this home's efficiency came in the form of dense pack cellulose in the exterior walls. First, we made cuts in the siding to remove the old fiberglass insulation. We used these same openings to fill the wall cavity with cellulose.
Cellulose is a great material to use in this application. It is made primarily from recycled material so you can sleep well knowing you are part of the solution! Moreover, it is a great sound barrier and a highly efficient insulator.
Step 4: House Wrap and Siding
Now the fun part! Replacing the T111 was sure to make this home look more modern, but the finished product was even better than expected! We opted to use metal siding because it is a low- to zero-maintenance siding, it will last just about indefinitely, and it looks great!
Conclusions
Before the project, this home scored a 1784 CFM with the blower door test. After this work, it scored 1095 CFM! This represents a 38.5 percent decrease in air infiltration in this home – That is huge! The homeowners will be living in comfort this winter and saving money on utilities.
We love taking on projects that pull our departments together. In this case, it was our construction and insulation crews.
Get in touch if you are looking for a holistic approach to construction and home efficiency without juggling multiple contractors!
Check out this gallery for some before and after photos – Let us know what you think!