Repeat Customer
After having a solar project installed in 2013 and a window replacement project in 2021, Kyle is well qualified to speak on his experiences with Building Energy. Ultimately, customer satisfaction is why many clients of ours are repeat customers and continue to trust our expertise with their energy efficiency, green building, and solar projects. The craftsmanship and reliability of Building Energy result in the feedback of clients wanting to work with Building Energy on future projects.
Overview Of The Project
Building Energy installed 20 240-watt panels which resulted in 4.8 kilowatts of production for the system. Our projected annual output for the system is 5,000 kwH. Additionally, the expected output for the 30-year design of the system is 139,615 kwH. To supplement this project the homeowners also decided to update their home's windows and trusted Building Energy to take on this project. In terms of the window replacements, there were nine windows removed and replaced with Earthwise Orion vinyl triple glazed windows from VinylMax. The trim of these windows was also updated and additional insulation was utilized to maximize the airtightness of these windows.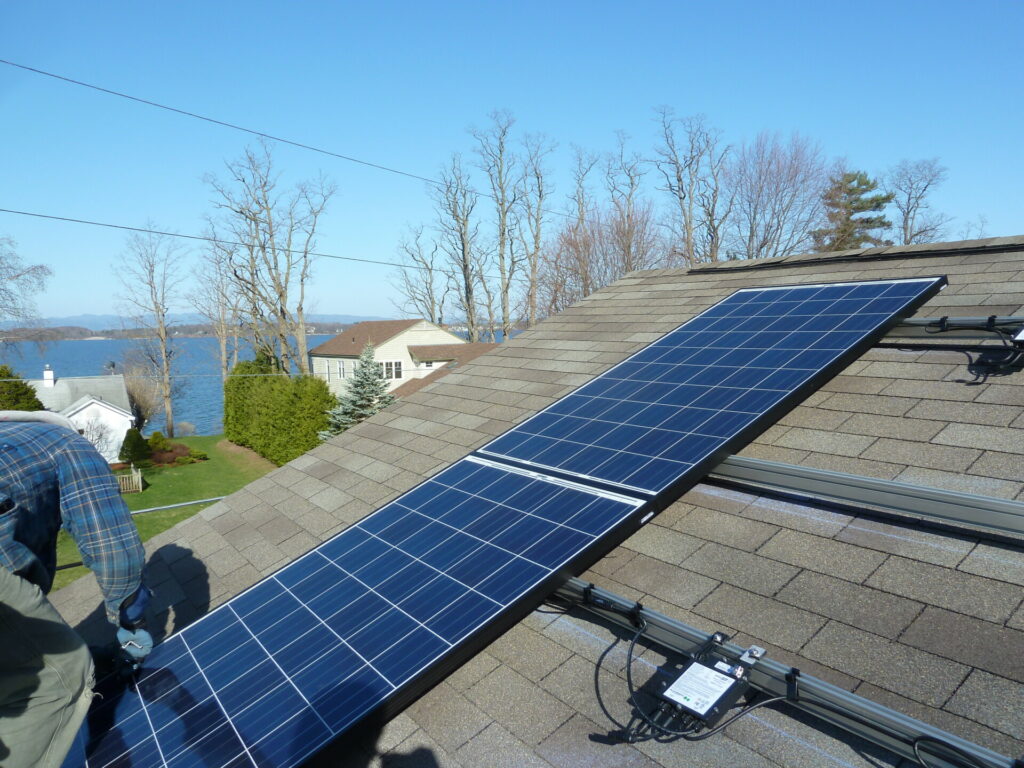 Homeowner's reflections on their projects
My wife and I have known Scott Gardner, president of Building Energy, for many years and know of his commitment to energy efficiency and the high quality of his team's work. Upon our request, Building Energy's lead solar engineer, Nik Ponzio, supplied us with a proposal to add solar panels on our roof about ten years ago. The project went very smoothly from start to finish, and we have been reaping the benefits ever since. It has more than paid for itself.
Our home is well suited for solar. We liked the idea of producing our own energy and being less dependent on the market price of electricity. We knew that the payback would take a few years, but the solar would also add great value to our property.
Regarding our windows: We realized over the past couple of years that many of our windows were old and not easy to open or close. They were also very energy inefficient, from the window itself to the frame around it. We looked at several options for replacement. We knew the staff at Building Energy were experts in weatherization and used only the best materials. We again were very pleased to find that they are competitively priced with the market.
Our experience with Building Energy's professional staff was absolutely fabulous ten years ago, and again this past summer. They provided great counsel, quoted competitively, and kept us informed of timelines every step of the way. They never left a mess and were very careful working around the property. Even our dogs missed them when they left!
Homeowner's Testimonial
Our solar system ten years later continues to work as well as the day it went in. We have never had one issue. The windows are stellar! They function very easily, with no drafts or leakage. We are now able to leave our blinds open and enjoy the views, knowing our heat is not all escaping.
These projects are hopefully, once in a lifetime for your home. Do them properly, and work with professionals that you can trust. Professionals whom, not only do their work well but whom you trust working in your home. Don't cut corners, you will live with the results for years to come. We have the peace of mind that we made the right decision and the pleasure of enjoying the results. I not only would recommend them, I do recommend them. They should be anyone's first call.
Looking Forward
Having this multifaceted type of project is typical for our company, and can ensure that you are maximizing the efficiency of your home once you make updates to your insulation/weatherization, a solar installation, or a heat pump. Being able to trust one company to deliver this product differentiates Building Energy from other companies, and makes the overall process of getting this work done much more convenient for the customer. To learn more, see our full lineup of testimonials through our blog. We hope to work with you soon on your home efficiency projects!