At Building Energy, we love bringing together our talented teams to help our customers accomplish their goals. For Mary and Peter, our whole-systems approach resulted in energy-efficient heat pump installations, weatherization work leading to a significant 50% air leakage reduction, and a solar system installation estimated to offset +/-100% of their electric use.
During the hot 2020 summer, Mary and Peter purchased a home in Hartford, Vermont, moving from a condo in Hanover, New Hampshire. Built in 1993, their new home did not appear to have any substantial changes from when it was originally built. In fact, the original shingle roof was going on 27 or 28 years old! Aiming to live sustainably on a retirement income, Mary and Peter sought to make their home as energy-efficient as possible.
That's where Building Energy came in. A neighbor in their new community, Hemlock Ridge, recommended Building Energy's Brent Mellen in White River Junction. With the pandemic top-of-mind, Brent "masterfully guided [them] through several options that included guidelines for [their] health, economic situation, and environmental impact."
Mary and Peter noted that "within 8 months Building Energy helped us to accomplish our goals," installing heat pumps, insulation, and solar! Initially deciding to wait on solar for another year, Mary and Peter reviewed the payback on a solar system as well as the net metering incentives and Federal Tax Credits offered and decided to move forward with the project. In all, Building Energy: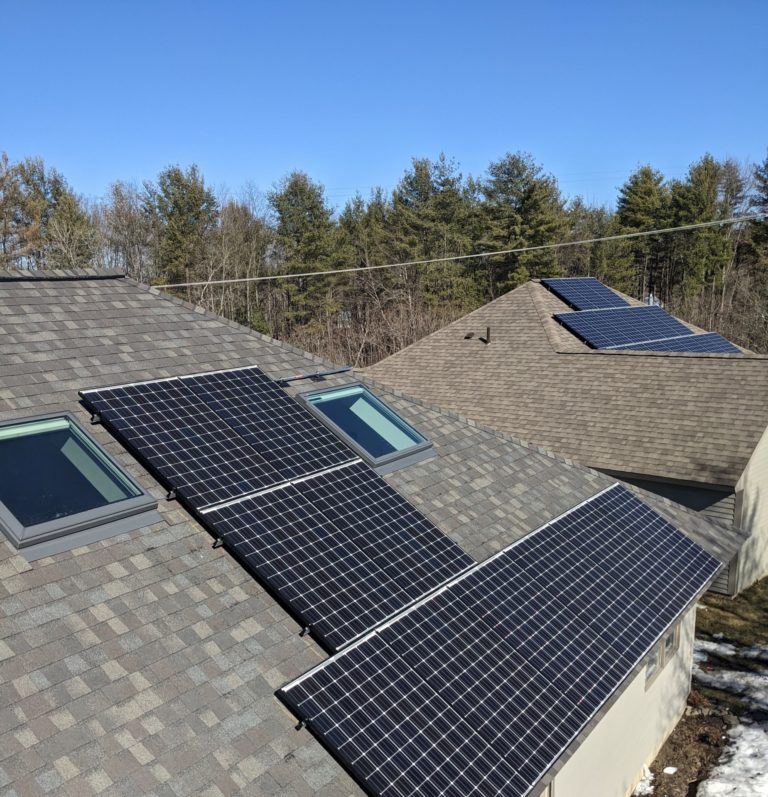 Installed 2 single zone heat pumps, 1 in the main first-floor area and 1 on the 2nd floor.

The heat pumps will provide heating to reduce the use of the propane boiler and provide cooling in the summer.

Completed weatherization work, including extensive attic air sealing and insulation.

Replaced 2 bathroom fans

New quiet, energy-efficient models will allow for continuous ventilation.

Vented the new range hood to the outdoors for indoor air quality improvements.
The weatherization work resulted in a 50% air leakage reduction, making the house less drafty and more comfortable.

Installed a 6.46 kW solar system.

The system is estimated to offset +/-100% of their electric use, including usage by the new heat pumps.
Other related upgrades not installed by Building Energy include a new shingle roof and a new sliding glass exterior door.
With all these projects completed, Mary and Peter said that they "have already noticed the positive effects of a tighter home and look forward to the energy gains in the near future and beyond." Regarding home improvements during the pandemic, they also noted that "Brent was not only professional (as were the various crews), but he always kept us updated, patiently answered all our questions, and all of them respected our space and our health during the stresses of a Covid environment and weather conditions."
Brent enjoyed working with Mary and Peter, and Building Energy is grateful for all the residents of the Hemlock Ridge community who continue to improve the energy efficiency of their homes and provide referrals for our company. These types of projects are really what our company is about: working with clients and bringing our weatherization, heat pump, and solar teams together to guide a project from inception to completion.
We are proud that projects like this speak to both our team effort and our whole systems approach. Contact us if you would also like to make home efficiency improvements without managing multiple contractors. View the before and after photos below and tell us your thoughts!